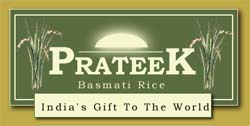 Rice is the world's favorite cereal. The staple diet of the world's teeming millions. Providing more people with their daily sustenance then any other cereal. We realize that each time someone, somewhere, tastes one of our brands, it is a test for us. Which is why nothing but the very best will do.
As varied as the people who eat rice is the sheer variety of rice grown around the world. Almost a thousand types can be found in India alone. And the best of them all is Indian Basmati. The high nutritional value, low fat content, easy digestibility and, above all, the rich, distinct aroma of Indian Basmati give it its enviable stature - as the world's finest, and most sought for quality premium rice. Little wonder then, that Indian Basmati can turn even the most ordinary dishes into delicacies. If Indian Basmati is the world's favorite rice, the Company's PRATEEK brand is really exquisite.
PRATEEK Basmati Rice - one of the finest among all the varieties of rice. Top-most in quality, pearl-white, long-grained, protein-enriched rice. The aroma, the texture and the taste, simply the best.
We first ensure that each grain of rice is at least 7.1 mm long and has its tips intact. Then we mill it to a whiteness of 40. And, finally, when all our stringent quality specifications have been met, we age it under controlled conditions for a period of over one year.